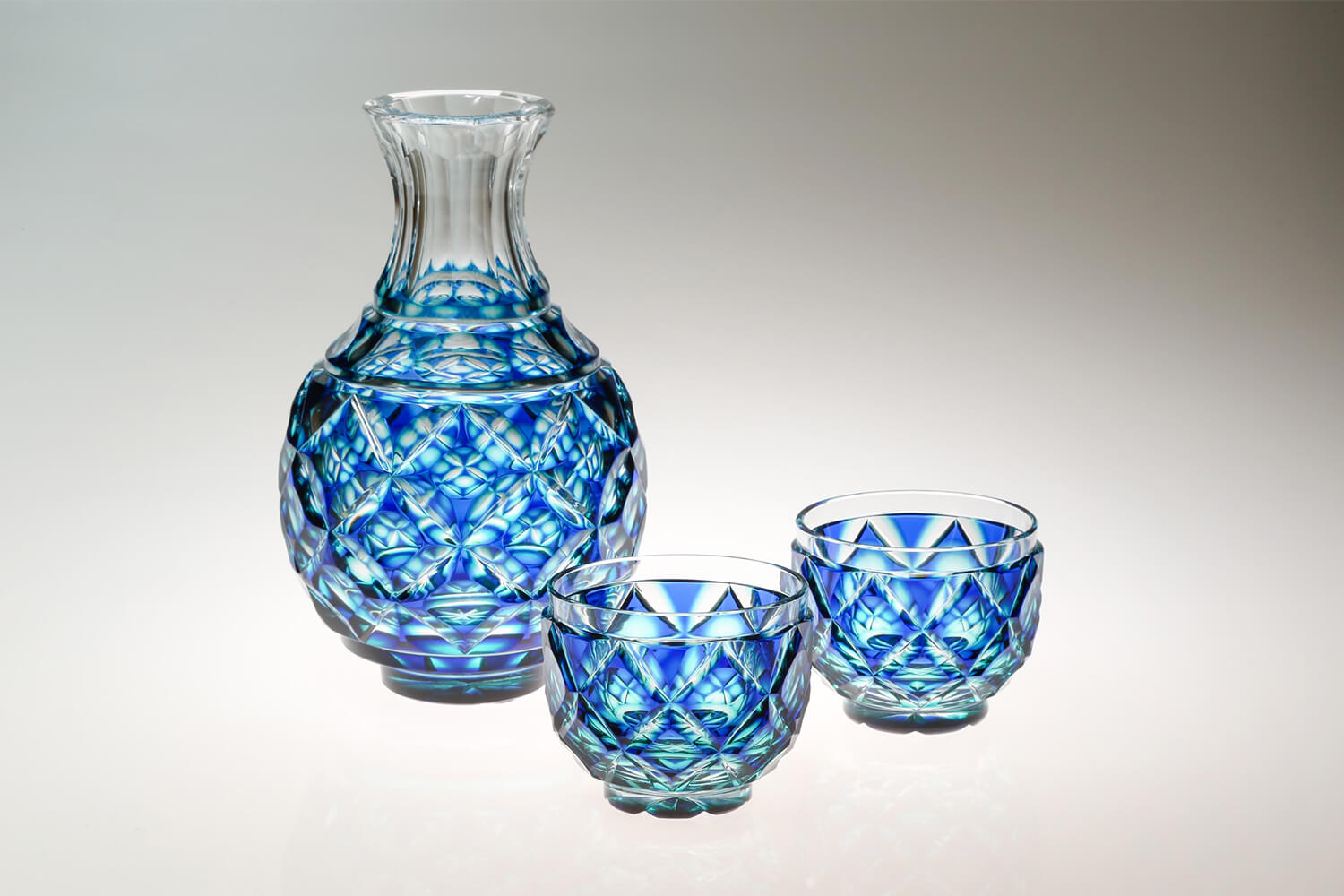 ガラス工芸である薩摩切子は、鹿児島県指定の伝統的工芸品です。透明ガラスに淡い色ガラスを厚く被せ、そこに深いカットや研磨を施すため、諧調豊かなグラデーションと、色の重なりが生む神秘的な表情を特徴とします。
The glass craftwork of Satsuma Kiriko is a designated traditional craft of Kagoshima prefecture. Skilled artisans overlay lightly-tinted colored glass in thick layers onto translucent glass and then make deep cuts into the layered glass, which is then polished to create a harmonious and rich gradation of hues. This overlap of colors is what gives the glass its magical appearance that is distinctive of Satsuma Kiriko.
吹きガラスという成形技法により、ひとつひとつ職人の手で作られています。このように何層にも色ガラスを重ねる技法を被せガラスと言います。世界中のカットガラスの中でも、手吹きの被せガラスからカットまでを一貫して、一つの工房で製作しているのは珍しいと言われています。
Each piece has been carefully crafted by artisans using the shaping technique of glass blowing. This technique of layering glass involves placing many sheets of colored glass on top of each other. Even among the cut glass items produced worldwide, it is apparently quite rare for a single studio to complete all the processes in crafting one item – from the layering of hand-blowing glass to inserting cuts into it.
全体の形とカット面のグラデーションがきれいに見えるよう、丁寧にひとつひとつ深めにカットしていきます。主に角山、菱山、かまぼこなど形状のことなるダイヤモンドホイールを回転させ荒ぼりをします。更に、研石に変え、緻密な模様に仕上げます。
Deep cuts are meticulously made into each layer of glass, so as to bring out the brilliance of the color gradation in the cut sections and accentuate the overall shape. The artisans carve out the desired shapes using several types of diamond grinding wheels, with blades such as kakuyama (angular), hishiyama (fluid) and kamaboko (cylindrical). They then switch to a grinding stone to finish the item with a delicate pattern.
ゴム盤・木盤・毛ブラシ・バフという様々な工程がある磨き。ベースト状にした磨き砂をつけながら磨くことで、カット面の細かい傷をとり、美しい艶を出します。丁寧に手で磨きをかけることで、カット部分を際立たせ美しい光の反射を生み出します。
Polishing is done using rubber and wooden boards, bristle brushes, buffs and various other processes. Using a paste-like polishing sand, the artisans polish the glass to remove fine scratches in the cut sections, which creates an even more brilliant and glossy color. It is this careful polishing by hand that accentuates the contrasting colors in the cut sections and creates a stunning reflection of light.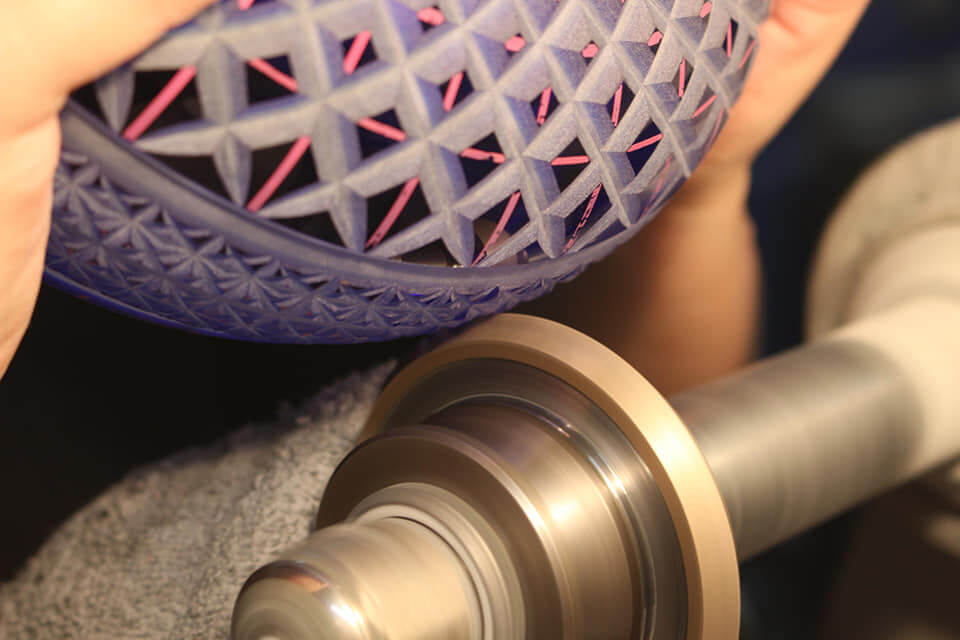 復刻された、薩摩切子の様式や意匠の例
江戸時代に発展し、その技法が確立されたと言われています。
Reproduction of a uniquely Satsuma Kiriko style and design.
The glass cutting technique of Satsuma Kiriko is said to have been developed and established during the Edo period.
薩摩びーどろ工芸株式会社